3. Explore all the benefits
Here's what people are saying about the Gluten Dude app...
"I have been suffering my entire life. I am working very hard to follow a gluten-free diet and it has been very hard. Thank you for this remarkable resource!!!"
Marea
"This app is exactly what the GF/Celiac community needs. Love that every restaurant on here is vetted."
Alli
"Sometimes it can be hard to trust other GF apps but I feel confident using this one. A great step forward for the Coeliac community!"
GF Seeker
"100% love this app! Thank you for researching all the restaurants before they are added!"
Erica
"I love the Gluten Dude App! It is a great resource and it is easy to use! Kudos on a job well done!"
CeliacJourney
"I am so excited for all of the resources I could ever have imagined all in one app now!!"
Brianna
"Just wanted to tell you how worth the money your app is! Thank you!"
Jacquie
"Love your app! Used it to find gf beer while traveling. It was at a cool little bar that we would have missed if not for your app."
Kim
"Excellent app that is worth the money. I have gone to a dozen restaurants recommended on this app and every one has been fantastic."
Seth
"As a celiac, I don't just need a GF menu, I need to know about cross contamination and safety protocols. This app has that info since each place is vetted! So helpful!"
Holly
"Perfect app for people who are living with the nightmare that is Celiac disease."
Beth
"An absolute must-have if you have celiac disease or gluten sensitivity! This app is so valuable for travel but also for day to day life."
Lynn
"Your app has helped us eat on three separate vacations. It makes me feel so much more comfortable to know that places have been vetted by people who really care."
Matt
"It's been over 20 years for me and I still get so nervous going out to eat. What you're doing for our community is amazing."
Jessica
"I'm so glad I found this app. Nothing else I have seen has the depth & breadth of useful, up-to-date, and peace-of-mind info on where to safely go. Thank you!!!"
Bev
I love the app! You make my life so much more convenient! Thank you so much!
Jessie
"I'm newly diagnosed and finding your app was literally the highlight of my last 10 days. Thanks so much!"
Casey
"I have begun eating out again! Thank you Gluten Dude."
Cee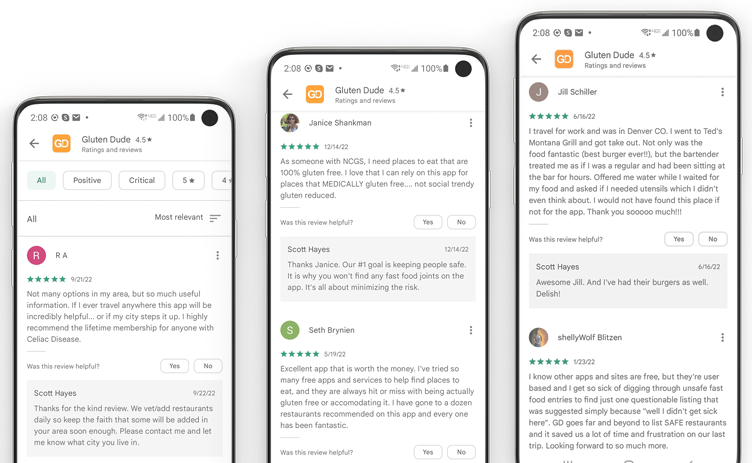 Download the app today and discover why people trust Gluten Dude.