3. Explore all the benefits
Gluten Dude vs Find Me Gluten Free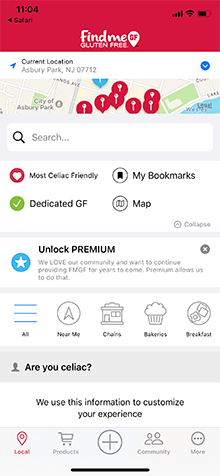 I often get asked why someone should download the Gluten Dude app if they already have Find Me Gluten Free. It's a fair question and one that deserves a fair answer.
Find Me Gluten Free has been around for many years and while I may not agree with many of their restaurant listings (i.e. describing McDonald's as 'celiac safe'), I am appreciative of their efforts to try to help the gluten-free community. But there are important differences between the two apps.
First and foremost, Find Me Gluten Free is only a restaurant directory. The Gluten Dude app is a more stringent restaurant directory, plus a whole lot more. It's a money saver (Let's Save). It's an airport directory (Let's Fly). It's a gluten-free beer finder (Let's Drink). It's a support system (Let's Discuss). Heck...it can even be a dating app (Let's Connect). It's all the tools you need to live a much easier gluten-free life. And it was created by someone who has had celiac disease since 2007 and has been a passionate and truthful advocate since 2011.
And there is one other very important difference: compared to the FMGF app, users cannot submit their own restaurants on the GD app. They can 'suggest' a restaurant and then our team reaches out to every suggested restaurant and asks them specific questions about their procedures in place to minimize the risk of cross-contamination. No restaurants go on the app unless they vet successfully.
Our goal is not to list every restaurant. Our goal is to list the restaurants that give you the greatest chance at a safe meal. And we vet/add restaurants on a daily basis.
Here's a quick comparison for you...
| Feature | Gluten Dude | Find Me Gluten Free |
| --- | --- | --- |
| Restaurant Directory | Yes | Yes |
| Notifications when a Restaurant in Your Area is Added to the App | Yes | No |
| Non-GF Restaurants Described as Celiac Safe/Friendly | No | Yes |
| Non-GF Restaurants Vetted | Yes (with vetting note added) | No |
| Fast Food Restaurants Included | No (way too much risk) | Yes |
| Large Chain Restaurants Included | No (way too many variables) | Yes |
| Researched Airport Directory with GF Options | Yes | No |
| Coupons to Online GF Companies | Yes | No |
| Forum to Get Support & Ask Questions | Yes | No |
| Gluten-free Beer Locations | Yes (over 17,000) | No |
| One-on-one Private Chat | Yes | No |
| Advertising | No | Yes (free plan) |
Download the app today and embrace your gluten-free journey.