Reduce the Stress of Eating Out

The Gluten Dude app is the ONLY APP that vets restaurants before they get listed, so you can spend less time worrying and more time enjoying yourself. Our goal is not to list the most options, but the SAFEST options. Over 5,500 restaurants with more added every day.

Save Money on Gluten-free Food

Quality gluten-free food is expensive and hard to find. The Gluten Dude app lists over 140 online companies that ship, with coupons to over 50 of them, so you can discover new products, support small businesses and save money at the same time.

Acquire a Support System

Getting diagnosed with celiac disease is overwhelming and leads to a lot of questions. The Gluten Dude app has answers to your questions so you can make an easier transition to a gluten-free life. Now includes GF options at stadiums and arenas as well as vacation spots.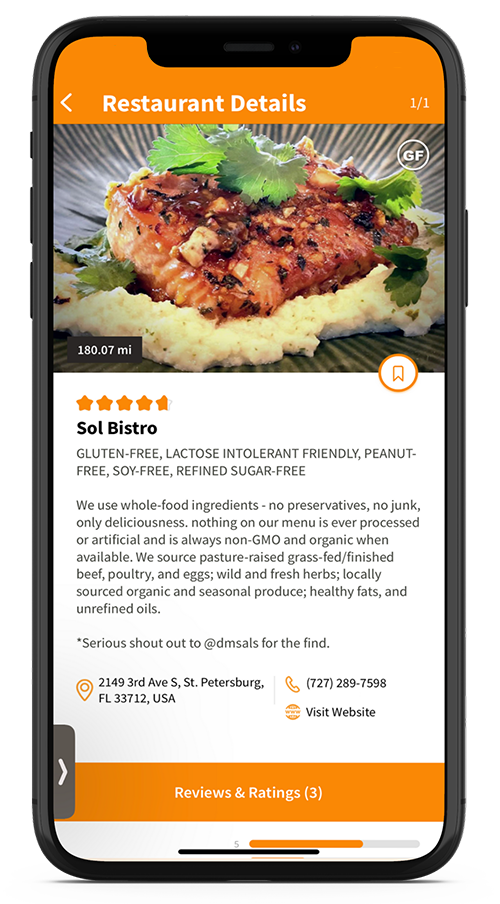 Find Gluten-free Options at Airports

Traveling with celiac disease is a challenge to say the least. Finding GF food at airports just adds to that stress. The Gluten Dude app has over 100 international airports and the GF options at each so you won't fly hungry anymore.

Make Connections

Celiac can be a lonely and misunderstood disease. The Gluten Dude app allows you to privately connect with others who have celiac disease, so you can make new friends and become part of a community of people who "get it".

Locate Gluten-Free Beer

True gluten-free beer is hard to find. The Gluten Dude app lists over 17,000 stores, bars and restaurants that have gluten-free beer so you can spend less time trying to find beer and more time enjoying it.
Lifetime access to all of the app's current features. Every restaurant. Every airport. Every coupon. Every conversation. Every beer location.
Fixing small issues with the current version (slow loading screens, getting logged out)
Lifetime access to all of our future features and upgrades. More restaurants in more areas at a quicker pace.
No more monthly or yearly fees - just a one-time payment of $149.
Peace, love and understanding 😉
Be a part of our community and help us shape the future of the app.
We're committed to making the app the best it can be, and we need your help to do it. Your input helps us improve the app and create the features you want and need.
We want to make sure that our app is accessible to everyone, which is why we're offering this lifetime subscription at an affordable price.
As a passionate celiac advocate since 2011, Gluten Dude (the person) has always looked out and done what's best for the celiac community.
How to Get Your Lifetime Subscription
Click on the "Get Lifetime Access" button below.
Enter your payment details and complete your purchase.
We'll send you an email with instructions on how to activate your lifetime subscription.
Enjoy the app for life!
Perfect app for people who are living with the nightmare that is Celiac disease. Created by a man with Celiac who truly cares about the safety of the community. Highly recommended and I trust this man with my health.
Beth
Love your app! Used it to find gf beer while traveling to another state. It was at a cool little bar that we would have missed if not for your app. Thanks.
Kim
This app is exactly what the GF/Celiac community needs. Love that every restaurant on here is vetted with the ability to leave reviews and easily see whether or not it's 100% GF. It's so easy to navigate and looks nice too. Thank you for bringing this into our life.
Alli
So grateful I came across this app. I was diagnosed 26 years ago when there were NO resources to help us. I am so excited for all of the resources I could ever have imagined all in one app now!!
Brianna
100% love this app! Thank you for researching all the restaurants before they are added! As a new celiac family, we appreciate all the hard work and useful information!
Erica
Your app has helped us eat on three separate vacations (which are always harder) already. Even in places where cross-contamination is possible, it makes her feel so much more comfortable to know that places have been vetted by people who really care.
Matt
Your whole system is a beast. It works splendidly. Thanks!
TJ
This app is different than other Gluten free apps I've downloaded. It includes recommendations where you can find a good GF beer and ways to connect to other Celiacs. I love the interaction components and support. Great app!
Fran
I can imagine that you get messages like this maybe hundreds of times a day. I have been suffering my entire life. I am 56 years old. I am working very hard to follow a gluten-free diet and it has been very hard. Thank you for this remarkable resource!!!
Marea
If you aren't familiar with Gluten Dude and you have celiac, hit up his website for excellent information, check out his book, and then get this app. You can't beat Gluten Dude's blend of helpful information, honesty, frustration, and humor of walking through this tough disease called Celiac Disease.
BeRightBack
I just wanted to thank you. It's been over 20 years for me and I still get so nervous going out to eat. What you're doing for our community is amazing.
Jessica
I love the Gluten Dude App! It is a great resource and it is easy to use! All of the data is vetted by Gluten Dude and his team. It is a labor of love and it shows. Kudos on a job well done! Get this app if you have Celiac Disease or Non-Celiac Gluten Sensitivity and help support our community.
CeliacJourney
The only app I pay for and never want to be without!
Megan
The app was very helpful when we traveled to an unfamiliar city! We were able to find gluten-free friendly restaurants where we could eat with no worries!
Sandi
Just wanted to tell you how worth the money your app is! My husband and I went to Philly this weekend and I ate great food all weekend and wasn't sick for a second. Thank you!
Jacquie
So nice to see a well thought out, clear, GF resource app for people with Coeliac Disease. Sometimes it can be hard to trust other GF apps but I feel confident using this one. A great step forward for the Coeliac community!
GF Seeker
Excellent app that is worth the money. I've tried so many free apps and services to help find places to eat, and they are always hit or miss with being actually gluten free or accommodating it. I have gone to a dozen restaurants recommended on this app and every one has been fantastic.
Seth
Download the latest version of the Gluten Dude app