Download the Gluten Dude app and immediately...
Reduce the Stress of Eating Out

We all know what a pain in the butt it can be to find a "safe" restaurant. The Gluten Dude app lists only establishments that are either 100% GF or have been recommended by someone in the GF community and have been vetted by the Gluten Dude team. NO fast food or large chain restaurants listed. Why? Tons of risk. Way too many variable. Very little reward.

Find New Products & Save Money

Quality gluten-free food is expensive and hard to find. The Gluten Dude app lists over 140 online companies that ship, with coupons to over 40 of them, so you can discover new products, support small businesses and save money at the same time.

Get Your Questions Answered

Getting diagnosed with celiac disease is overwhelming and leads to a lot of questions. The Gluten Dude app has answers to your questions so you can make an easier transition to a gluten-free life.
Make Connections

Celiac can be a lonely and misunderstood disease. The Gluten Dude app allows you to privately connect with others who have celiac disease, so you can make new friends and become part of a community of people who "get it".

Locate Gluten-Free Beer

True gluten-free beer is hard to find. The Gluten Dude app lists over 16,000 stores, bars and restaurants that have gluten-free beer so you can spend less time trying to find beer and more time enjoying it.

Eat Safely at Airports (coming soon!!)

We all know what a pain traveling gluten-free can be. The Gluten Dude will list hundreds of international airports and the GF options at each. No need to fly hungry.
This app is different than other Gluten free apps I've downloaded. It includes recommendations where you can find a good GF beer and ways to connect to other Celiacs. I love the interaction components and support. Great app!
Fran
Perfect app for people who are living with the nightmare that is Celiac disease. Created by a man with Celiac who truly cares about the safety of the community. Highly recommended and I trust this man with my health.
Beth
Just wanted to tell you how worth the money your app is! My husband and I went to Philly this weekend and I ate great food all weekend and wasn't sick for a second. Thank you!
Jacquie
The only app I pay for and never want to be without!
Megan
So grateful I came across this app. I was diagnosed 26 years ago when there were NO resources to help us. I am so excited for all of the resources I could ever have imagined all in one app now!!
Brianna
I love the Gluten Dude App! It is a great resource and it is easy to use! All of the data is vetted by Gluten Dude and his team. It is a labor of love and it shows. Kudos on a job well done! Get this app if you have Celiac Disease or Non-Celiac Gluten Sensitivity and help support our community.
CeliacJourney
Excellent app that is worth the money. I've tried so many free apps and services to help find places to eat, and they are always hit or miss with being actually gluten free or accommodating it. I have gone to a dozen restaurants recommended on this app and every one has been fantastic.
Seth
Your whole system is a beast. It works splendidly. Thanks!
TJ
If you aren't familiar with Gluten Dude and you have celiac, hit up his website for excellent information, check out his book, and then get this app. You can't beat Gluten Dude's blend of helpful information, honesty, frustration, and humor of walking through this tough disease called Celiac Disease.
BeRightBack
This app is exactly what the GF/Celiac community needs. Love that every restaurant on here is vetted with the ability to leave reviews and easily see whether or not it's 100% GF. It's so easy to navigate and looks nice too. Thank you for bringing this into our life.
Alli
I can imagine that you get messages like this maybe hundreds of times a day. I have been suffering my entire life. I am 56 years old. I am working very hard to follow a gluten-free diet and it has been very hard. Thank you for this remarkable resource!!!
Marea
So nice to see a well thought out, clear, GF resource app for people with Coeliac Disease. Sometimes it can be hard to trust other GF apps but I feel confident using this one. A great step forward for the Coeliac community!
GF Seeker
Love your app! Used it to find gf beer while traveling to another state. It was at a cool little bar that we would have missed if not for your app. Thanks.
Kim
The app was very helpful when we traveled to an unfamiliar city! We were able to find gluten-free friendly restaurants where we could eat with no worries!
Sandi
The Challenge
Finding safe places to eat.
The Solution
A directory of both 100% GF restaurants/bakeries and restaurants that are not 100% GF but have been recommended by the celiac community and personally vetted by the Gluten Dude team, with a focus on quality, not quantity. And no fast food joints.
OVER 4,000 RESTAURANTS AROUND THE WORLD WITH MORE ADDED EVERY DAY.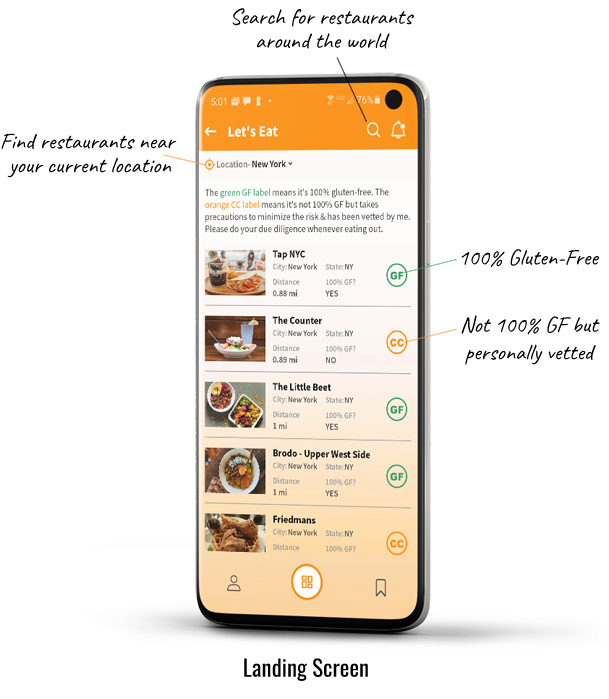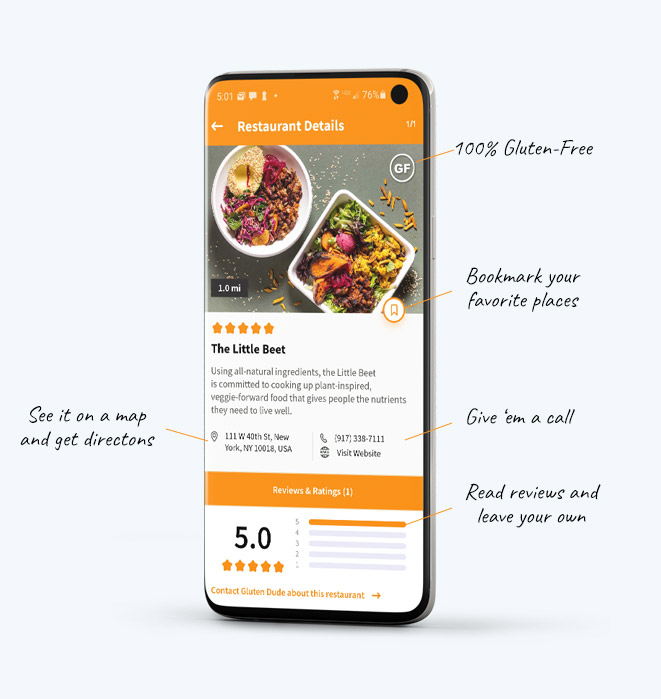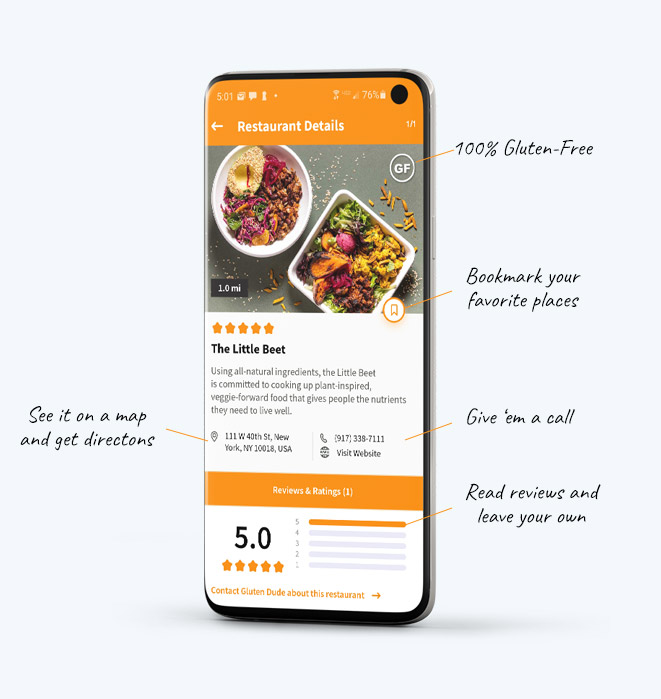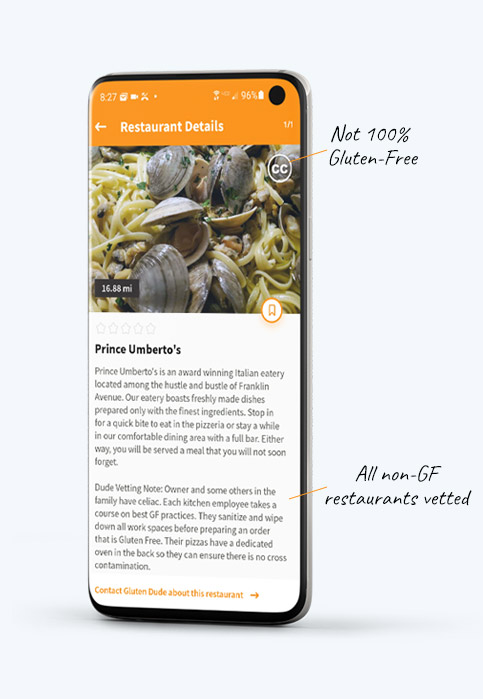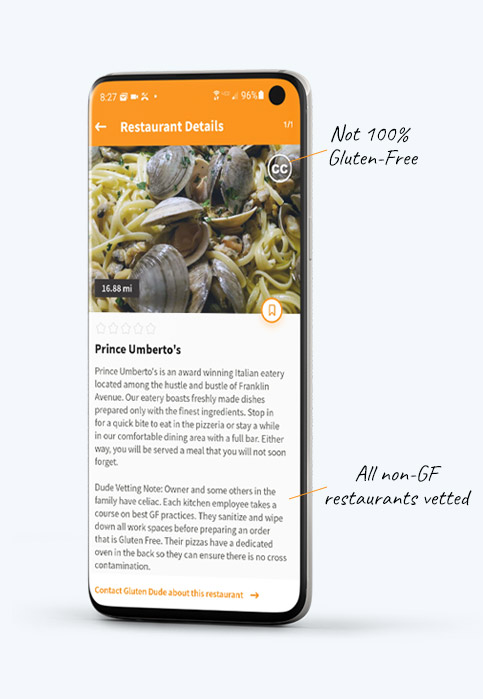 The Challenge
Discovering online GF companies and finding coupons when placing your order.
The Solution
Did you know there are over 140 gluten-free companies that you can order from online and that will ship right to your doorstep? Everything from pasta to cookies to mixes to breads to cakes to muffins and more! The GD App has a directory of every one of these online companies, with a description of who they are and what they sell, and a direct link to their online store.
LOOK FOR THE SPECIAL GLUTEN DUDE COUPONS.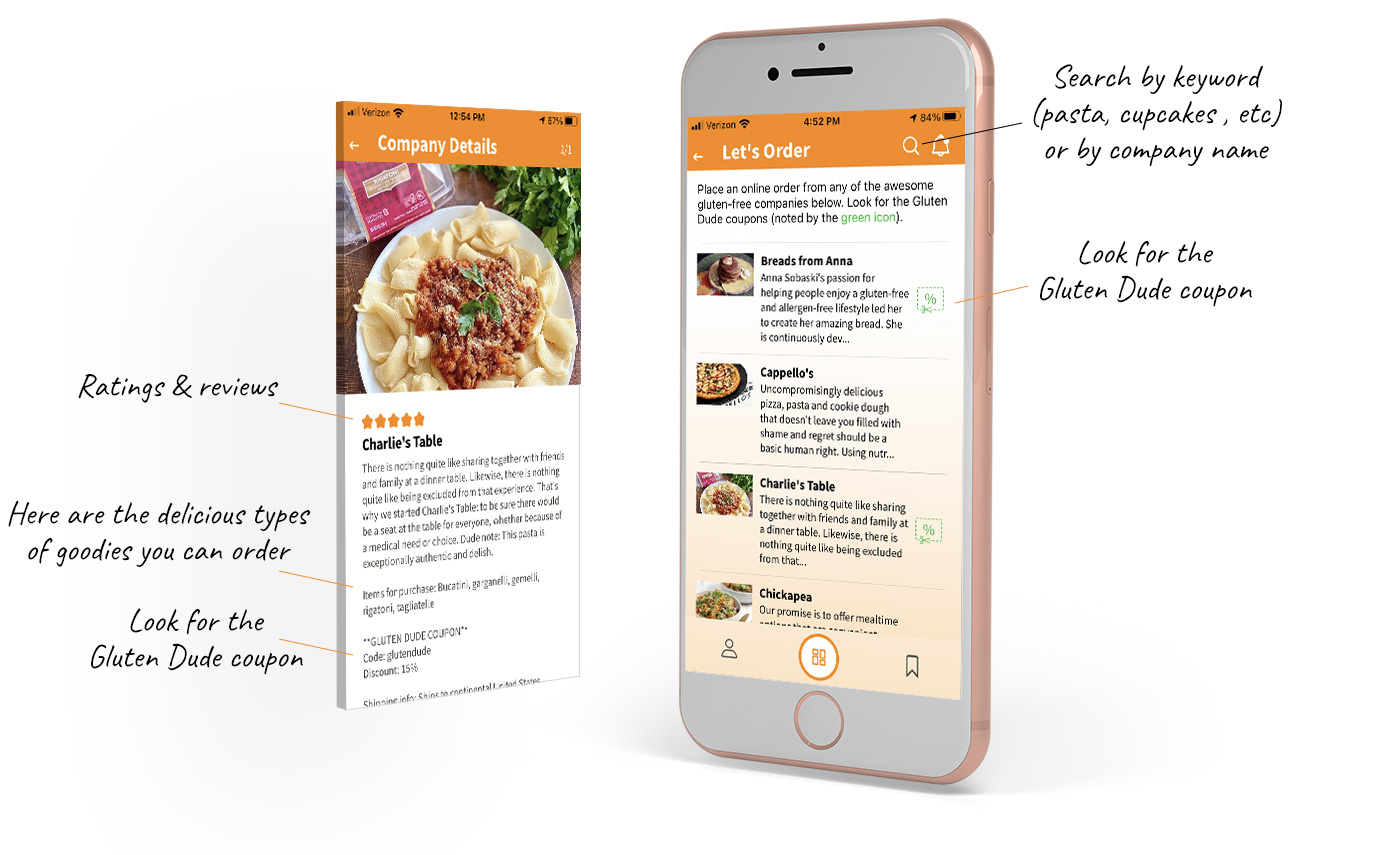 The Challenge
Getting the right answers to your questions.
The Solution
A forum where discussion is encouraged but fear-mongering and misinformation will not be. The internet is littered with falsehoods and dangerous information regarding celiac disease. You deserve to get honest answers from those who have been in your shoes.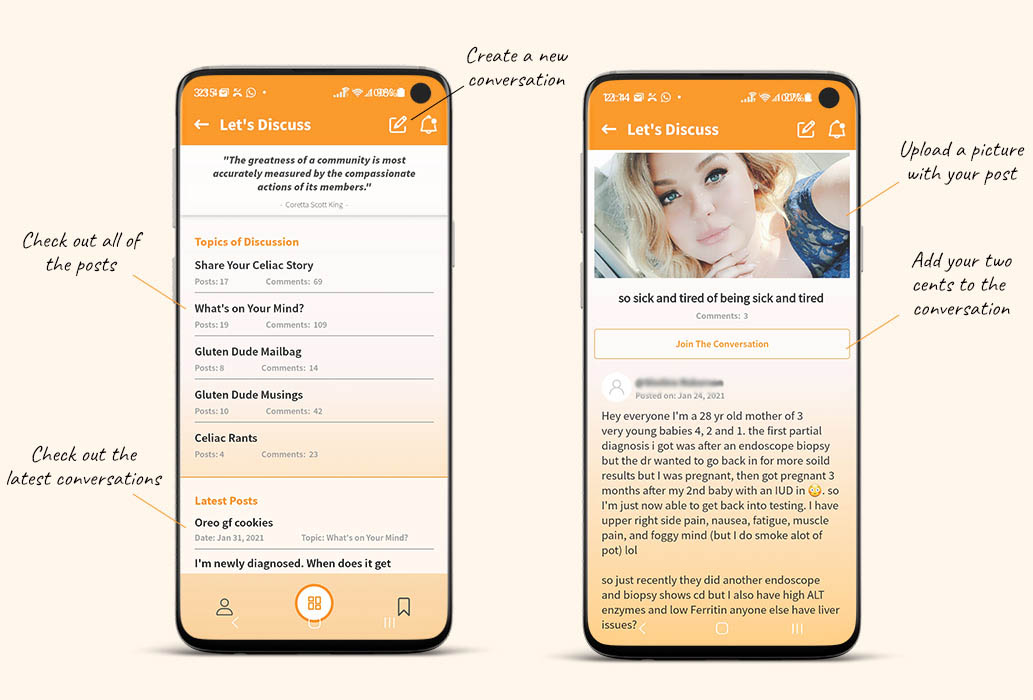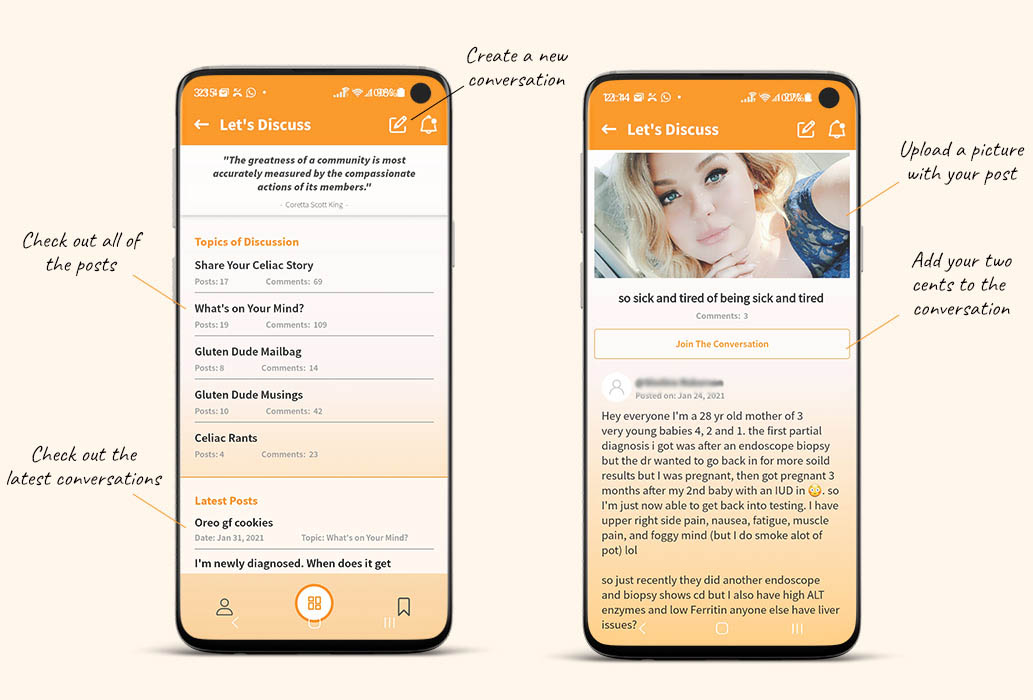 The Challenge
Isolation and feeling like you're alone in your gluten-free journey.
The Solution
Live chat. The app will connect you with others in the celiac/GF community, allowing one on one private chats. You'll even have the option of providing your zip code, allowing people to search for others by location. People can connect when they're traveling to a new town and get local help, but also they can make new friends in their own area, plan GF play-dates with other parents of GF kids, etc. There is also the option to block users from contacting you if you wish.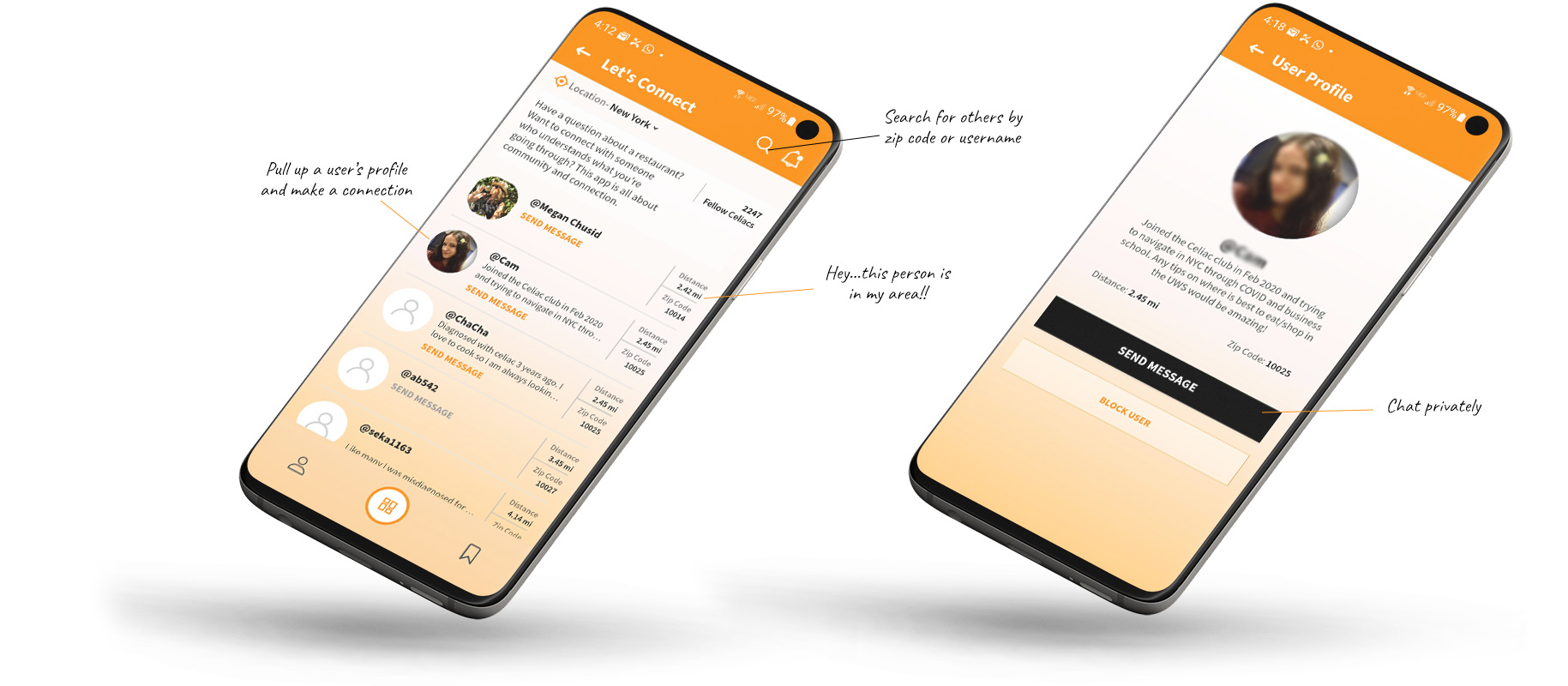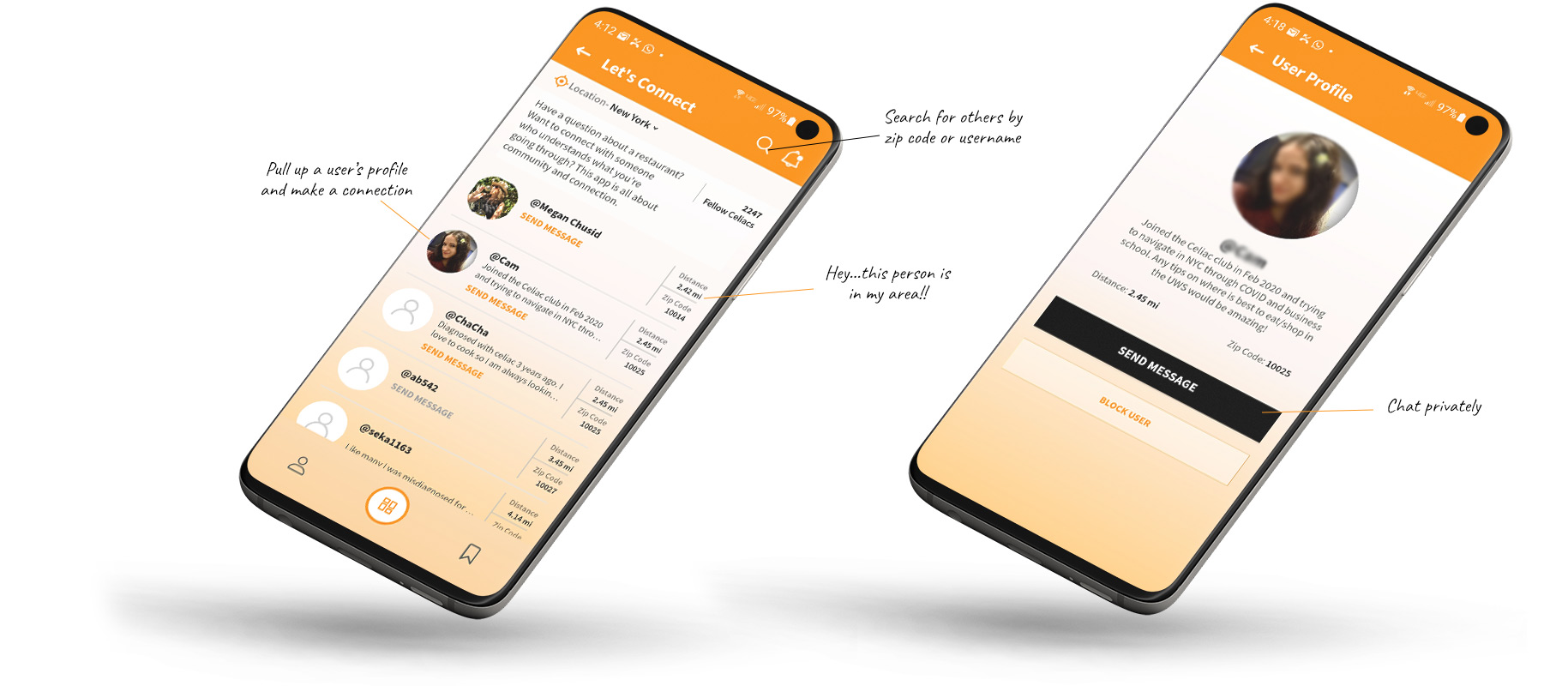 The Challenge
Locating gluten-free beer.
The Solution
Beer, sadly, is not gluten-free. The most popular "gluten-free" beers on the market today are actually "gluten-removed" and are not safe to drink. There are a handful of amazing 100% gluten-free beers out there, but they can be difficult to find. The Gluten Dude app shows more than 16,000 stores, bars and restaurants where you can purchase gluten-free beer.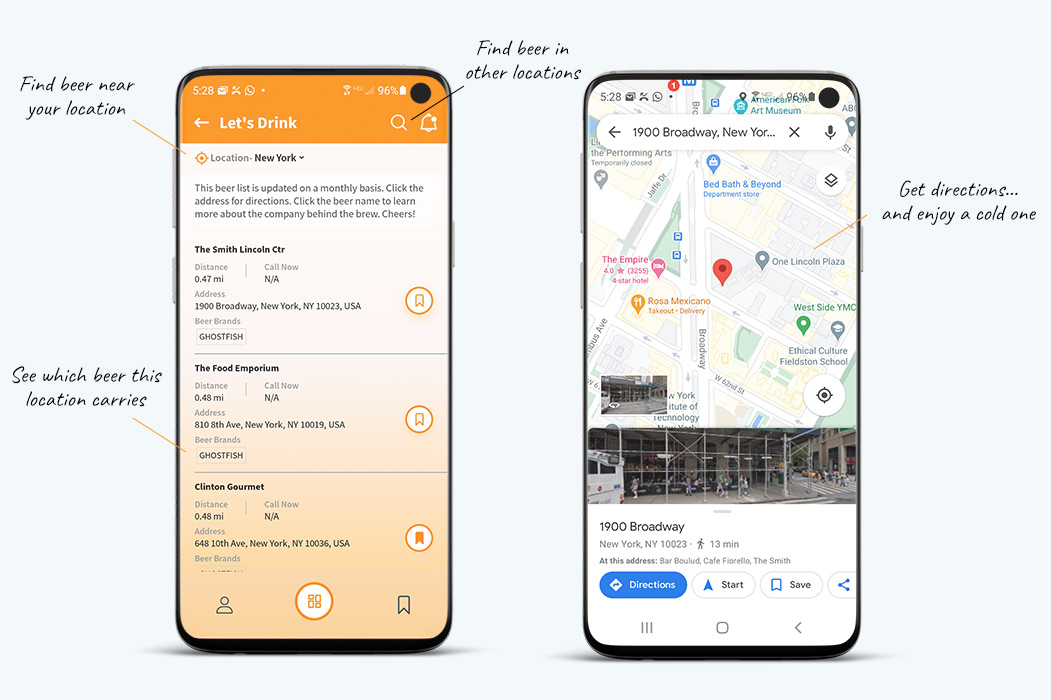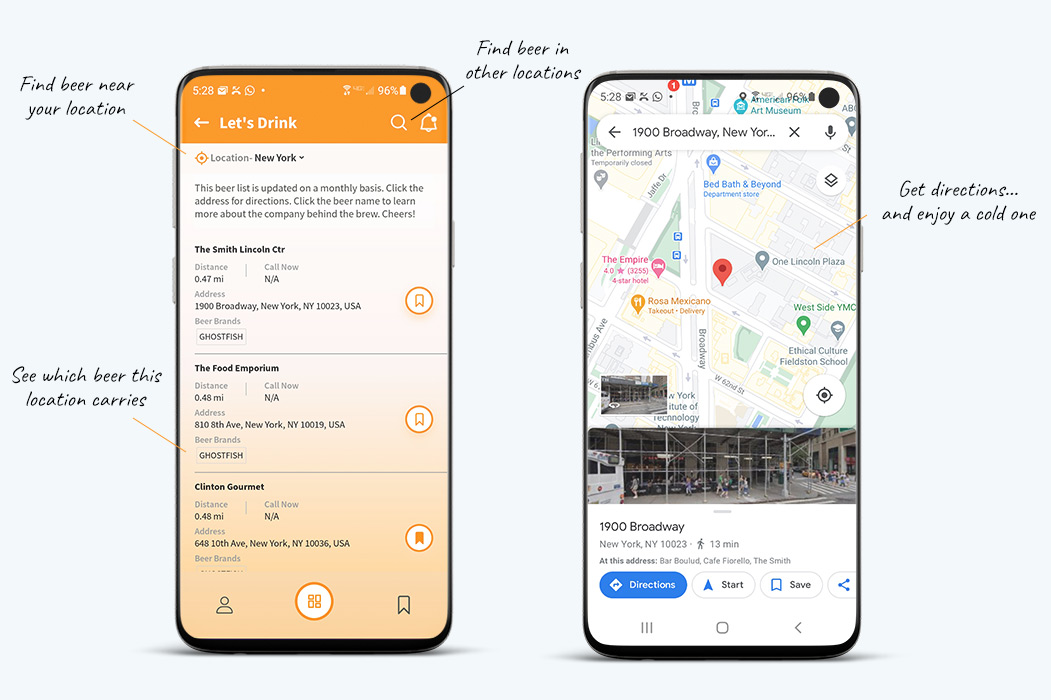 Let's Fly (Coming Fall 2022)
The Challenge
Finding gluten-free options at the airport.
The Solution
A directory of the most traveled airports in the world, with a list of eating establishments and GF options at each one. There's no need to fly the friendly skies hungry.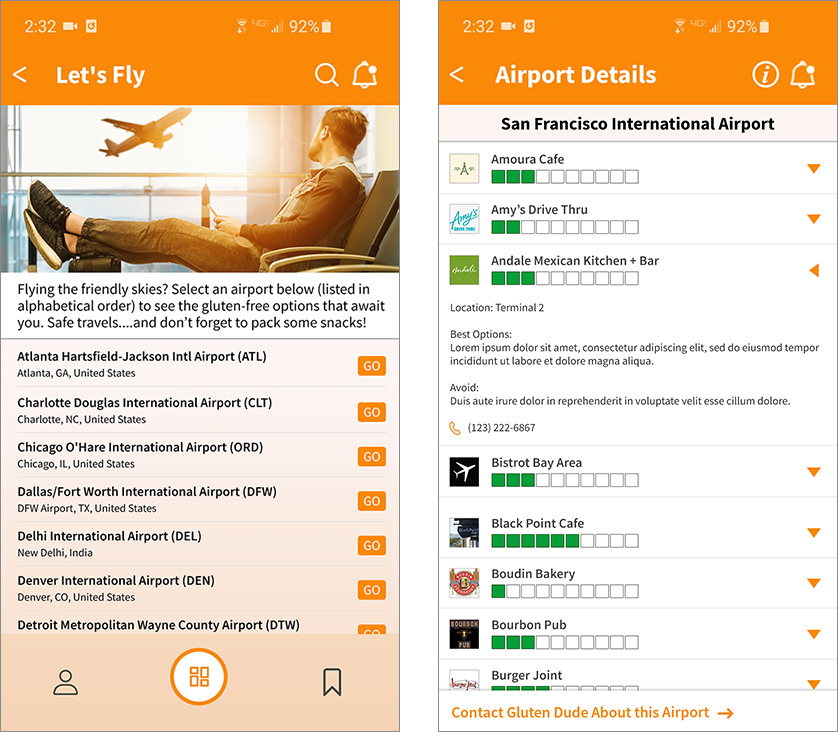 Good question. I'm a passionate and very outspoken celiac disease advocate. I was diagnosed with celiac disease in 2008 and I launched my blog in 2011. In the ten years since, I've written over 700 articles, received over 33,000 comments and the site has been visited over 9 million times.
I've helped a lot of people along the way, both publicly and privately, and this app is another way to serve the GF community. I've got a wonderful, spirited following on my blog and on social media.
Oh...and I wrote a book, which is available on Amazon.
What they say about Gluten Dude...
Your website and the Gluten Dude community you have brought together is so POSITIVE and crucial for my health and happiness and knowledge and celiac confidence! Thank you.
Camille
Thanks for the balanced approach, whether it is funny, sad, angry, silly or loving. We have all been through the emotional roller coaster. I look forward to hearing the real voices of the folks who comment here. You bring out the best in all of us! Thanks Dude!
GF Mom
Your blog just stopped me from going over the edge. Thank you!
Joan
Like John Lennon coaxing Prudence from her room, the Gluten Dude asks other celiacs to come out and play. With acerbic wit, candor and a touch of rebellion, he's sharing his journey and he's enticing the celiac community to do the same.
Kim
Your latest post is why my son wants to be Gluten Dude when he grows up.
Denise
I absolutely love your page - it's so raw and honest and in your face while raising awareness of our frustrations by frankly speaking out. Thanks for giving me such a good laugh - it's so appreciated in face of this illness more serious than many realise and the impact it can have on spontaneity and sense of fun 🤩 so necessary to keep up our lightness and our humour.
Rachelle
One of your blogs appeared in the middle of a sea of the usual B.S. and feel-good nonsense about celiac and gluten that is all over the Internet. What a relief to find what you are doing here. I can't believe it. Finally!
Carol
You have brought us laughter, information and a safe place to rant and vent. You have created a place where we can let it all hang out, and just be ourselves. Sometimes we just need to be in the company of fellow travelers along this road. You gave that to us. Thank you from the bottom of my heart. You changed the journey for me.
Joy
Thank you, thank you, thank you. I can't say it enough. Your knowledge and honesty is like a life raft in an unknown and terrifying ocean.
Jess
Dude…Where the hell have you been all my life? Kudos and thanks for all that you do.
Kim
As a direct result of your educational sharing and awareness raising efforts, I am confident that the health of countless lives have already been drastically improved. Best wishes and most importantly, THANK YOU hero!
Chuck
Gluten Dude…you have touched so many lives and you have a way of making anyone who finds your blog to feel so understood and a part of a welcoming and supportive community.
Kristin
You make me smile, you make me cry, and you make me mad. But, most of all, you make me grateful that I don't have to figure this all out on my own.
Darlena
Keep rockin' Gluten Dude. You are changing the world for us.
Laura
You are like tonic to the gut, bubbling with humorous dialogue to cure the sad soul of any celiac needing attention. I am lifted from my moody mornings into hope for our future in a healthy community as I read your lines and the comments they generate.
Elizabeth